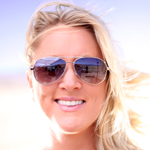 The Heidi & Frank Show

Heidi Hamilton of the Heidi & Frank show is the girl next door who is just one of the guys. She's the kind of girl who can dress up and look like a lady on Saturday night but call her on Sunday morning and she'll help you move a couch too.

Heidi thinks of Frank as an older brother who she loves, but would sometimes like to strangle. Heidi has a laugh that people either love or hate, but you can't help but recognize it immediately and wonder what in the world could be so funny? When Heidi isn't doing the show she spends her time taking care of her 4 dogs and 2 cats, running, drinking wine and working on her house.

She always has some project underway. Heidi is in her tenth year with Frank and when asked what her favorite thing about doing the show is she said, "getting paid to laugh every day is my favorite thing....well, that and getting to have a liquor cabinet in our office. Pretty sure ya can't have that at most jobs"
< Back to Meet Toadhop