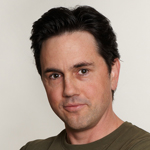 2 Guys and a Mic

Rich (the "Wise-Ass" from 2 Guys and a Mic) honed his sharp tongue on the sarcastic streets of Long island. Gotta have a sense of humor to live there.

Back before Radio died, he started his career on a 5 watt pirate radio station in his friend's attic. That's where he caught the fever. Rich parlayed that illegal experience into an actual On-Air radio job in NYC. Followed by a series of hirings and firings that left him in Orlando, where his survival instincts helped him create the first successful FM Talk station, WTKS (RealRadio104.1).

It was in O-Town that Rich first hired Ken (his Worry-Wart sidekick), solely because instead of a demo tape and resume, Ken submitted a VHS tape of himself dressed in drag as his mother, begging for the job. Fast forward a few years, after a brief job-stay in SF, Rich arrived in LA to build KLSX (97.1 the FM Talk Station) alongside Heidi and Frank. 10 years and a lot of money-made later, the death of the radio industry brought an end to the top-rated FM talker and provided the launching pad for "2 Guys and a Mic" on a progressive media outlet known as The ToadHop Network. OK enough. Go Listen.
< Back to Meet Toadhop