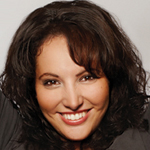 The Gina & Randy Show

Along with hosting the Pretty Good Podcast, Gina is a voice actor for video games ("Rose" in Street Fighter 4), animated series ("Paranoia Agent", "Technolyze", etc...), cartoons, commercials, and radio stations. Formerly, Gina produced, anchored, and regularly co-hosted the much-loved "Tim Conway Jr. Show" on KLSX 97.1fm in Los Angeles. She has also anchored the news on KFI am640, as well as having hosted a weekend talk show for KSCP San Diego. Gina has been a recurring guest on great shows like The Adam Carolla Podcast, Playboy Radio, The Young Turks, and WILD 94.9fm's morning show in San Fransisco. As for her "day job", Gina is an in-house voice actor Premiere Radio Networks, where she voices daily comedy bits, parody songs, and celebrity impressions for radio stations around the country.

In front of the camera, Gina has been featured in a handful of episodes of "General Hospital", dressed in scrubs and acting like the hospital buzzkill, delivering more bad news than babies.

On the rare occasion she's not talking, Gina's favorite passtimes include searching for awesome places to visit around southern California, animal outreach, hiking, and going to brunch. Her goal in life is to hike and go to brunch. Every weekend. For the rest of her life.
< Back to Meet Toadhop