Randy Wang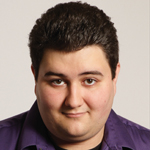 The Gina & Randy Show

Randy Wang is co-host of the Pretty Good Podcast while also serving as a sidekick to host Tim Conway Jr. on KFI AM 640 who currently broadcasts weeknights from 7-10 all over Los Angeles. Before working for KFI, Randy had been an integral part of the now defunct, FM Talk Station, KLSX 97.1. It was there he not only got his start in radio but held multiple duties which included, call screener for the John and Jeff show, broadcast delay for Adam Carolla, editor webmaster, on air talent and producer for The Tim Conway Jr. Show.

This ride at KLSX would only last 3 years from 2006 until the format flipped in 2009. Wanting to keep the boat afloat, he partnered with Gina Grad, who also worked as both on air talent and production for The Tim Conway Jr. show with him. Together, they created The Pretty Good Podcast which proudly boats 1.3 million downloads a month and gets stronger every day. Considering he spends about half the time talking about his love of online TV, videogames, local hangouts, and food joints, you have to wonder if this guy is simply a man's man or a total genius...Tune in to find out.
< Back to Meet Toadhop